Ski holidays with the
Cinque su Sette
formula: much more than skiing
The new Cinque su Sette (Five out of Seven) weekly pass revolutionizes the traditional ski pass by encompassing the area's top experiences.
Throughout your week-long stay, you can pick any 5 days for skiing and dedicate 2 other days to other top experiences in the area, including any that require use of the lifts.
You can take a break from skiing for a romantic stroll along a snowy trail. Or you can pick any of the top experiences for winter as you seek out the Alpine soul of the Madonna di Campiglio, Pinzolo and Val di Sole tourist destination.
Thanks to your "Cinque su sette" (Five out of Seven) ski pass, you can choose between the following top experiences*:
UN'IMPRONTA POSITIVA - (A Step in the Right Direction), 22 and 29 December, 5 and 12 January, 6 and 20 April
A snowshoeing excursion along snow-covered trails in the heart of nature, accompanied by an Adamello Brenta Nature Park expert and a Mountain Guide, to soak up the colours and atmosphere of sunset in the magical surroundings of the Brenta Dolomites, a UNESCO World Heritage Site.
 
SNOWMOON - 19 December 2021, 18 January, 16 February, 18 March and 16 April 2022
A nocturnal outing beneath the full moon to reveal a world illuminated by its silvery light, with a special musical background.
 
SKI SUNRISE - Saturday 29 January, 5-12-19 February 2022
Spellbinding sunrises high in the mountains, combined with a delicious breakfast and an early-morning descent accompanied by ski instructors.
 
CAMPIGLIO SUNSET SKI - Thursday 24 February, 10 and 17 March 2022
Stunning sunsets high in the mountains, combined with a mouth-watering aperitif, music, and torchlit skiing accompanied by instructors.
 
SUNSET SKIALP - 3, 12, 17, 26 February 2022
Use ski skins for a twilight climb in the Brenta Dolomites, followed by a warming snack in a mountain hut and a night-time descent along the "Skialp Track by night".
 
HOT MIND - Every Sunday in March 2022 (6-13-20-27)
Sensory experiences with Andrea Bianchi and the "Hot Mind" method, to learn how to fuel your energy and your inner fire through contact with nature in winter.
 
SLOW FOOD TRA LE DOLOMITI (Slow Food in the Italian Alps) - Saturday 12, 19 and 26 March 2022
Events centring on food and wine to learn about Rendena Cattle, a Slow Food locale, through the direct experiences of the producers.
* all these experiences have been designed for small groups of people: book the one that interests you now to make sure you get a place!
To book click on the button below and enter the "ticket reference number" (e.g.: 1AMAR1UY): it is the number in the purchase confirmation email (see example below) of your "Cinque su Sette" (Five out of Seven) ski pass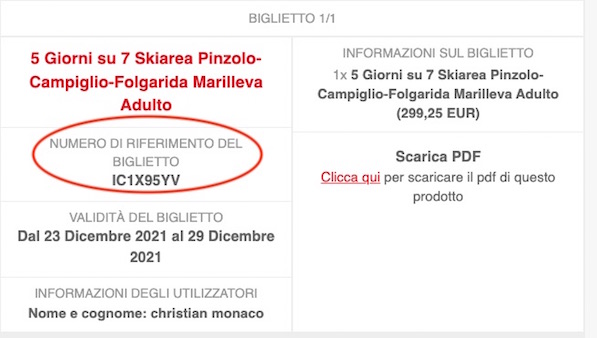 What's more, the weekly Madonna di Campiglio or Pinzolo Skibus service is included in the price of your ski pass.
You can get your free ticket for travel here by entering your ski pass code (e.g.: 1AMAR1UY):